Answers to 3 Common ADU Questions
Thinking of building an ADU? You're probably curious about cost, timing and square footage. Below, we dive into these three popular topics to give you clear answers to these commonly asked questions.
How much does an ADU cost?
Villa's prices start as low as $119,000 for a one-bedroom, one-bathroom home. Looking for more space? We have seven two- and three-bedroom options that start at $139,000 and $189,000. Those prices include everything from site prep, to permits to final inspection, as well as the fully installed unit with fixtures and appliances. The foundation, trenching, and utility connections are all included too. 
Following installation, other fees to keep in mind are home insurance and property taxes. The good news is, your primary home will not be reassessed—ADUs do not trigger Prop 13. Your property tax will be recalculated based on a blended assessment, which should increase your annual property tax only by about 1 percent of the value of the ADU. The base value of your existing primary dwelling will stay the same.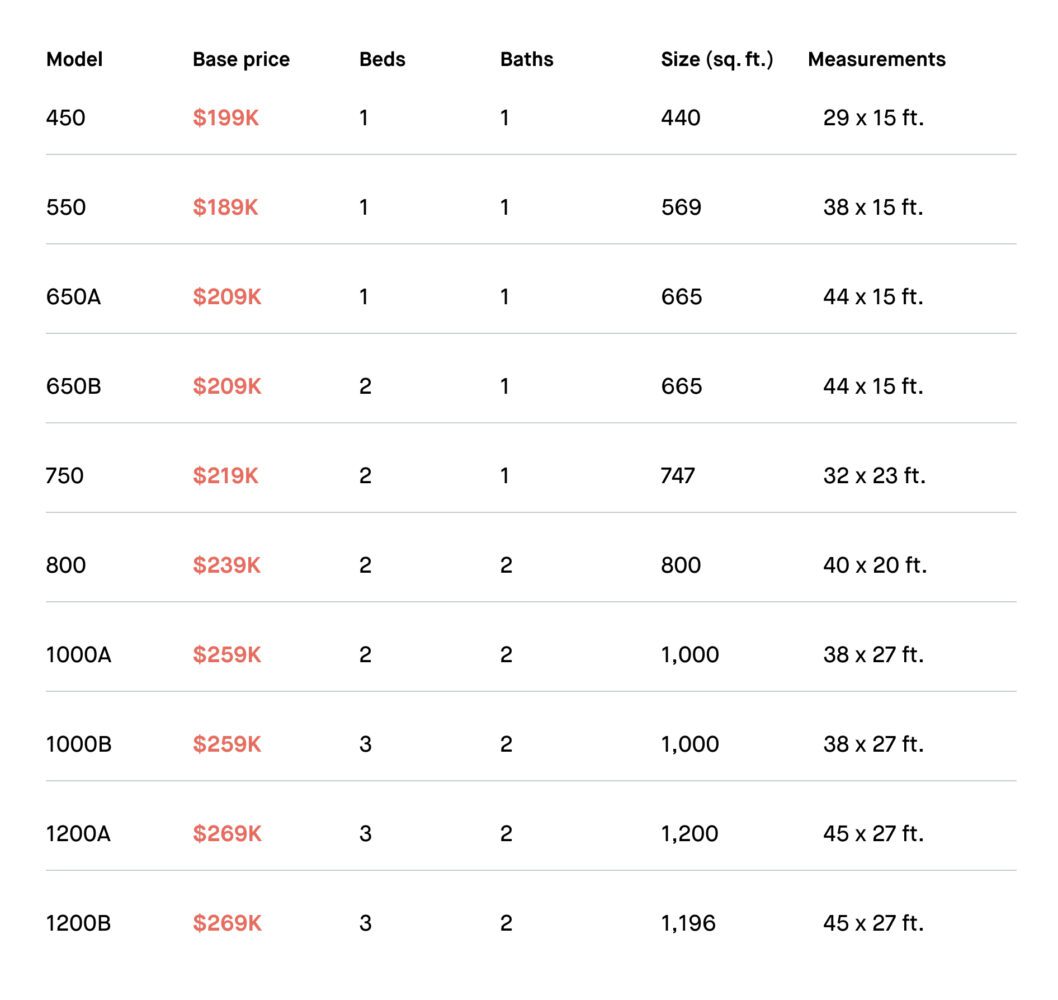 What's the biggest ADU I can build?
Each municipality in California has different regulations that determine maximum square footage. For example, Santa Rosa allows a maximum size of 800 square feet for one-bedroom ADUs, 1,000 square feet for two-bedroom ADUs, and 1,200 square feet for three-bedroom ADUs, as long as the unit is smaller than 40 percent of the lot. In Napa, the maximum-size ADU you can build is two bedrooms at 1,200 square feet. We've compiled regulations for many cities in California here, or you can visit the California Department of Housing and Community Development website to find out the specifics for your neighborhood.
Many types of properties can accommodate a detached ADU, and our floor plan options are flexible to fit a range of backyards.
How long does it take to build an ADU?
Since regulations changed in January 2020, the timeline to build an ADU has never been shorter. The first step is getting your ADU approved by the local planning department, which must review your project in 60 days or less. Following approval, our average build takes about six months to complete. The timeline for each project will vary slightly, depending on the location and scope of work.
Because Villa's ADUs are built offsite and finished onsite, the installation phase can be as short as 48 hours or up to three or four weeks. Prefab construction has the advantage of being significantly faster and more efficient to build than other construction types. Also note that prefab circumvents weather delays during construction, and limits the mess and noise typically associated with home construction, since the bulk of the build is done offsite.
Where can I get more tips?
Many homeowners are looking for a separate space from their home that can be used as a home for aging parents, workspace, or a rental property. To create this extra space, homeowners are deciding to build an accessory dwelling unit, or ADU. The potential uses and benefits of an ADU are endless, but designing one can be difficult since every city has its own zoning restrictions, HOA regulations, and building laws. Laws surrounding ADUs from San Diego, CA are completely different from the laws in Columbus, OH.
To get you started, Redfin reached out to ADU experts like us to share our best tips and tricks that will help you create the perfect ADU design for your needs. Check out our tip on ADU Advice: 12 Expert Tips for a Successful ADU Design.
Still have questions? Check our FAQs.
Ready to get building? Start with an instant quote.