Half of ADU owners have generated rental income from their investment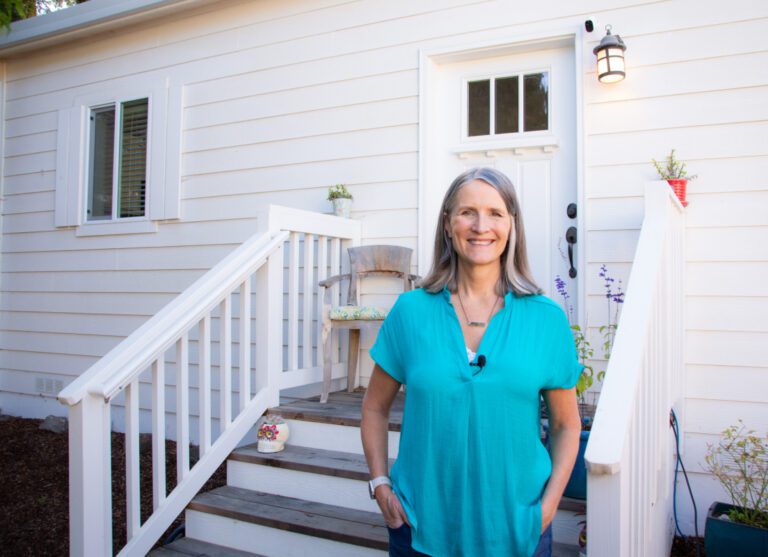 Villa's Much ADU About Housing survey delves into the transformative impact of Accessory Dwelling Units (ADUs) on California's communities and homeowners. Conducted in September 2023 by OnePoll and spearheaded by Villa, the state's leading builder of prefabricated ADUs, this survey uncovers intriguing insights into how the ADU revolution is fueling housing across California.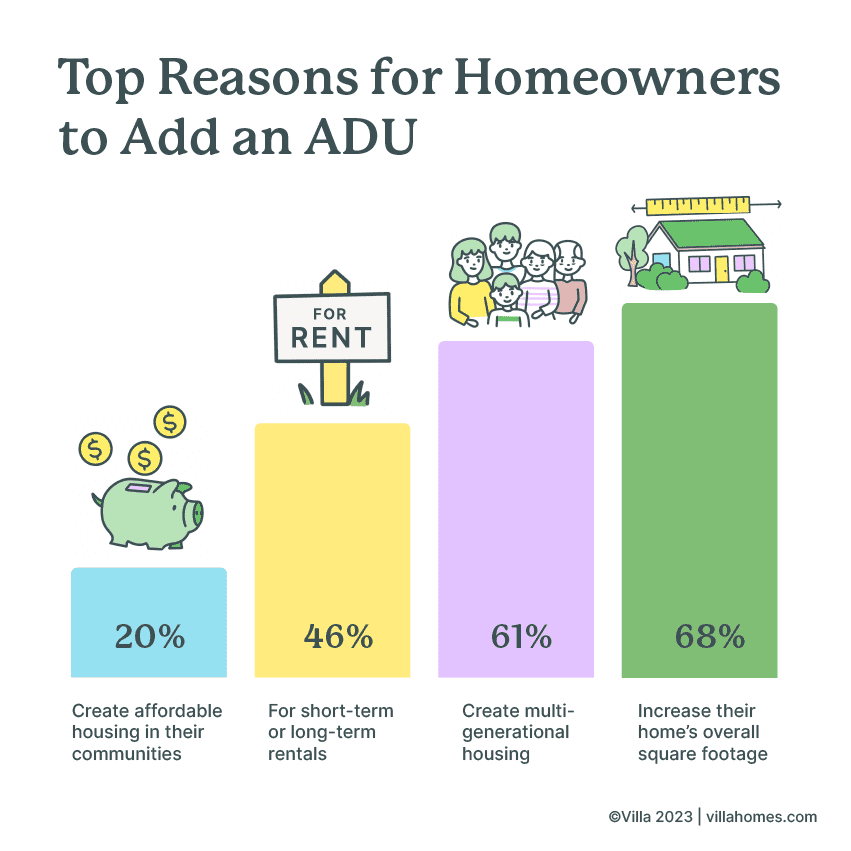 46% of surveyed ADU owners have rented out their space for short-term or long-term rentals.
For many homeowners, this income may be helping to offset the rising costs of necessities such as groceries, gas, and rent. However, there is also a Robin Hood dynamic at play, with many homeowners building this housing to create opportunities for lower income families and individuals.
In fact, over 20% of homeowners shared that they specifically added ADUs to create affordable housing for others in their community.
Of those individuals renting an ADU, 60% of renters shared that living in an ADU has allowed them to live in a neighborhood they could otherwise not afford. 43% of renters shared they were closer to job opportunities thanks to their ADU and 26% of respondents say an ADU has enabled them to be close to a good school district.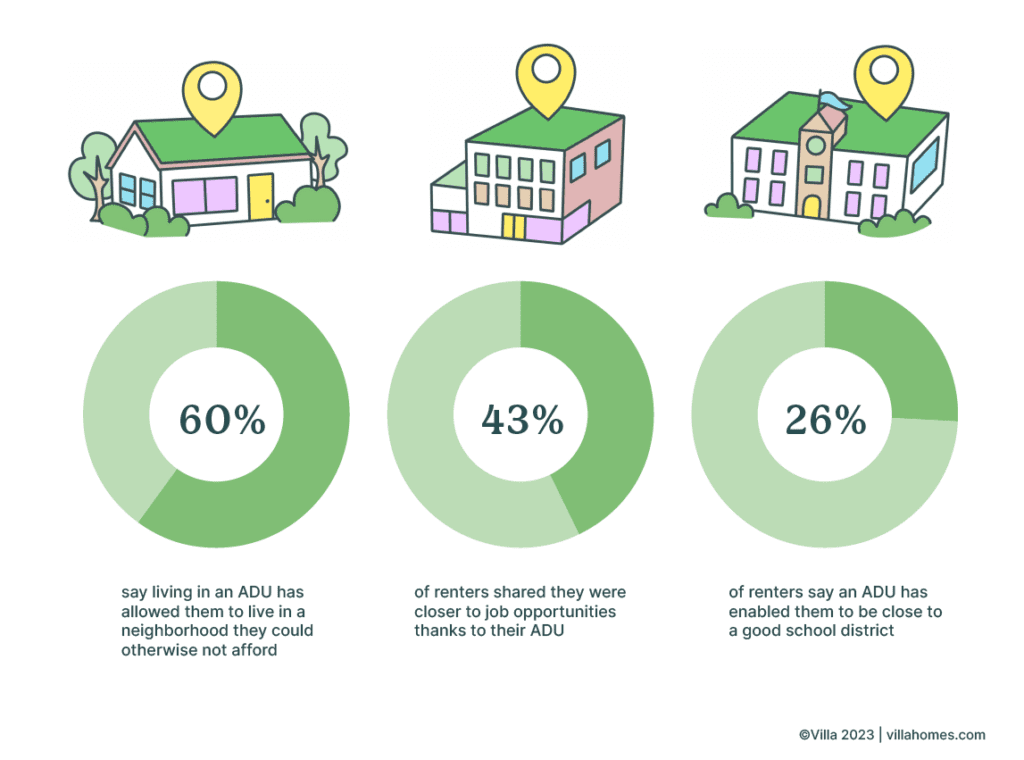 ADUs are also playing a massive role in building multigenerational housing, and allowing families to live closer together.
A remarkable 61% of homeowners cited creating multigenerational housing as a primary motivation for constructing their ADUs.

Those homeowners include Martin Guevara and Grace Kuo, Los Angeles residents who constructed an ADU to house their adult daughter Melanie Guevara, 33, and her husband Devon Hollowood, 34. By working with Villa to add a 850-square-foot prefab ADU, the couple were able to move away from their rental property with roommates, live in an area that was close to family, and stay financially stable. 

As Hollowood shared with Los Angeles Times, "We didn't have money for a down payment. But we wanted our own place and didn't want to waste money on rent. We thought we could move into a backyard unit as a starter home." 

While Guevara and Kuo are using their ADU to house adult children, multigenerational housing can also include housing aging parents or family members who need a bit more support.
1 in 4 homeowners either house a disabled family member in their ADU or have plans to do so in the near future.
Accessibility is a crucial factor for 73% of homeowners, whether for aging in place or accommodating current residents.
ADUs are also providing a simple, affordable solution for expanding square footage. That is especially true for growing families who would have considered moving to a larger house, but paused their search due to rising mortgage rates.
Of the 68% of homeowners who are using their ADU to increase their home's square footage, here's the most common ways their additional space is getting used:
56% are housing friends or family members

47% are using the space as a guest house for visitors

39% are using the space as a home office

20% have turned an ADU into a classroom or playspace for children

14% have added an entertainment room 

9% have added home gym space

9% are using the space for a workshop (art studio, woodworking, etc)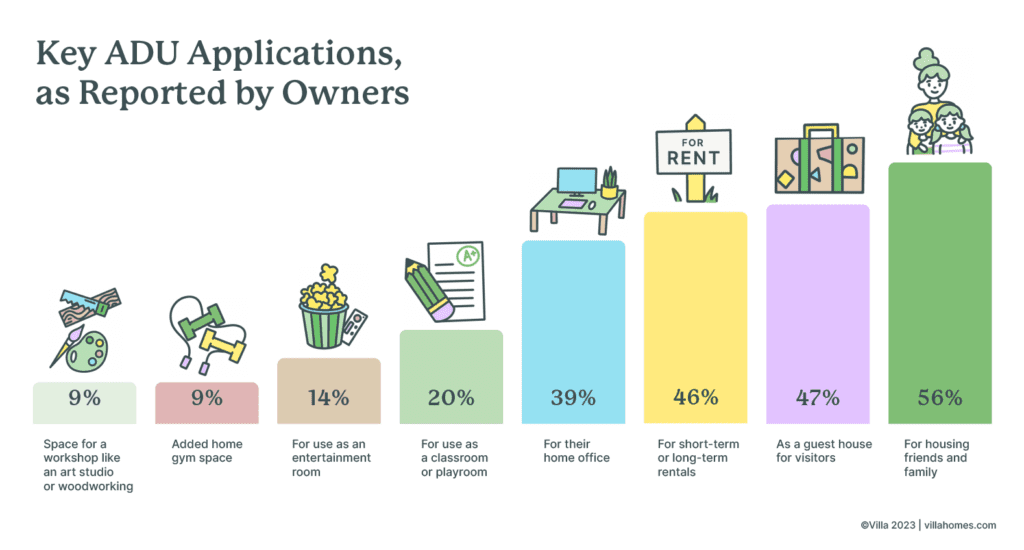 For those who are considering adding an ADU in the future, more than half of surveyed homeowners shared that designing their ADU was the number one challenge. Other top ADU challenges include building and installing the ADU (49% had difficulty), and finding the right contractors and team (47% complained this was tough). However, all of these challenges can be solved by working with an ADU-specialist such as Villa. Clients can choose from more than 15 customizable, functional, and aesthetically-pleasing layouts ranging from 440 to 1,200 square feet, and Villa's services include everything from design to delivery and installation.
The Much ADU About Housing Report was conducted by Villa in September 2023 via OnePoll and received responses from 250 California residents ages 18 and up who either own or reside in an ADU.