Advantages of Prefab ADUs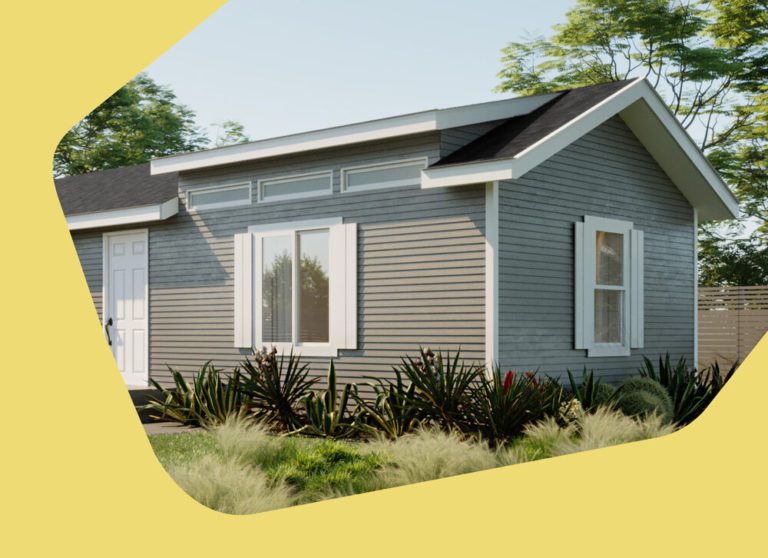 ADUs can be constructed in two ways: 1. From the ground up onsite, also known as traditional stick-built or site-built construction, or 2. in a factory, either as a fully prefab (prefabricated) single unit or as modular pieces that are then installed onsite. While your personal needs and budget will ultimately determine the type of construction that's right for you, here we share some of the advantages of prefab construction for accessory dwelling units.
Lower cost
Thanks to factory production, economy of scale, and our exceptional efficiency, we can offer our prefab ADUs at surprisingly low prices without cutting any corners—and in fact, our extensive standard features may surprise you! Taking into account everything you need for your project that's included in our price and considered extra by many other builders—such as permits, site prep, and utility hookups—the costs of our prefab ADUs are some of the lowest around.
Predictable timeline
Building outside means dealing with fluctuating temperatures and conditions such as rain and snow. As the weather can cause delays, the total build time for stick-built construction is usually unpredictable. Housing built in a factory, on the other hand, is protected from the elements, which makes the time frame for building much more predictable.
Faster build time
Since factories are open for more hours each day than general contractors tend to work, and often run 365 days a year as opposed to Monday through Friday minus holidays, prefab ADUs typically are built faster than onsite construction. On top of that, site prep work can be done while the ADU is being built in the factory, further speeding up the process—and bringing that
 much-needed extra space or rental income to you even sooner!
While finishing work on our prefab models is done onsite, they arrive fully constructed, which minimizes noise and disruption for you and your neighbors and saves time. Traditional stick-built housing can take months or even a year to finish, depending on the complexity and site conditions. Onsite finishing of our units, which includes stitching and seaming if needed, utility hookups, and a final inspection, usually takes less than two weeks! 
Dependable high quality
Our ADU designs are precisely engineered and have been perfected over time. The construction standards are high, and every ADU is rigorously inspected—so you can count on excellent quality and durability. Stick-built ADUs, however, vary widely in both quality and durability, depending on the architect, design, site, contractors, subcontractors, and build conditions.
Easier process
While some degree of customization is possible with our prefab ADUs, our goal is to keep things as simple as possible for you. We offer 10 models and three designer-created looks to choose from, with a fixed number of customizations and upgrades. With site-built housing, on the other hand, the architectural and design decisions can seem endless! And you will likely have to deal with each required professional—architect, interior designer, general contractor, subcontractors—separately, whereas we handle every part of the process for you.