7 Reasons to Make Villa Your ADU Builder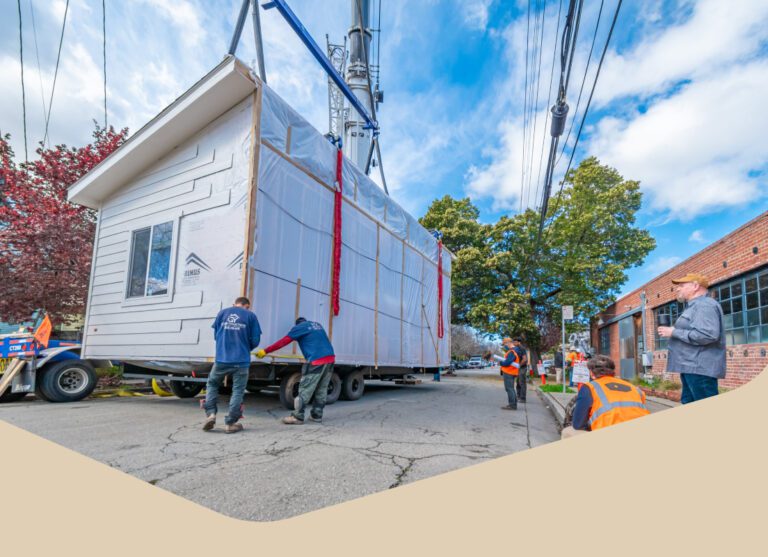 More Californians are building ADUs than ever, thanks to legislation that eliminated the owner-occupancy requirement, eased parking restrictions, and lowered fees. But how do you choose an ADU builder? Consider these key benefits of building your backyard accessory dwelling unit with Villa.
1. Easy process
Building a backyard home is often too big a hassle for the average homeowner going it alone—not just getting the unit designed and built, but dealing with permitting, site preparation, utility hookups, and contractors. The typical ADU builder leaves all of that to you, but at Villa we take care of everything—from plans and permits to final inspection. We act as your designer, project manager, and general contractor, taking care of the entire design and construction process. Our experts will even guide you on design choices for whichever of our 10 units you choose.
2. Low prices
We regularly beat competitors on price because all of our prefab ADUs are built in a controlled factory environment with efficiencies of scale and production. Our lowest-priced unit with a wide range of standard features. Work with us to understand any other costs associated with your unique property.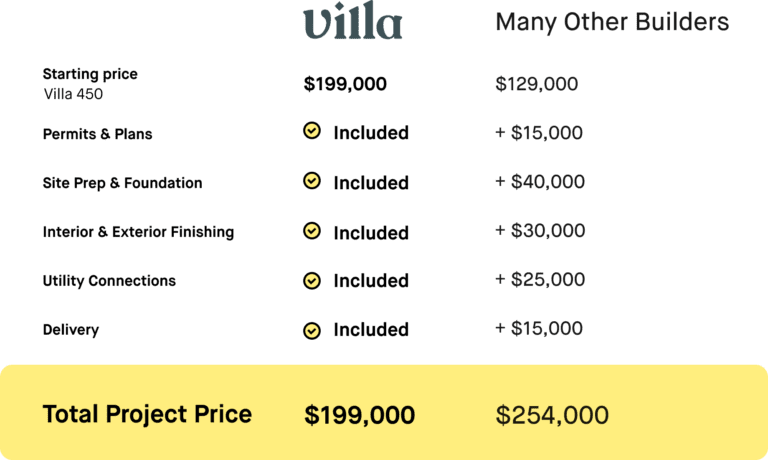 3. High-quality construction
We believe everyone deserves great-quality housing. So all of Villa's prefab homes meet or exceed U.S. Department of Housing and Urban Development (HUD) codes, which ensure safety, uniformity, durability, and consistency of construction. Our ADUs are actually designed with stronger roof loads and greater exterior wall insulation than HUD code requires.
4. Customizable designs
Prefab doesn't mean cookie cutter! While you'll start with one of 10 basic floor plans and choose from three interior design looks, many elements are customizable. For instance, you can swap flooring materials, choose a mirrored layout, and add windows and doors and even a wheelchair ramp.
5. Energy-efficient ADUs
Prefab construction generates less waste and takes less energy to manufacture than stick-built homes. ADUs typically also are smaller than the primary home, which means a smaller carbon footprint. Villa's models again go a step further with energy-efficient features including a solar-ready roof, Energy Star–rated appliances, and LED lights.
6. Faster build
Stick-built homes usually take at least 12-18 months to build. Even modular ADUs from other companies can take a year to be constructed and installed. But Villa's build time can be as short as 8-11 months, thanks again to efficient factory production and our streamlined process.
7. Dedicated, friendly experts
It's our mission to make the ADU building and installation process as simple and cost-effective as possible. Our team of experts will go the extra mile to make sure you're happy with both the process and the result, putting our considerable experience to work making things easier for you.
Bonus: What customers say about working with us
"The Villa team has been such a joy to work with. They've made the process really easy. And I'm thrilled with my ADU. It's exactly what I wanted!" —Vivian H., Oakland
"Villa really took care of me throughout the whole process. And there were no big surprises. I appreciated the things they did to build trust." —Paul G., Pleasanton
"The whole process has been excellent. I'll say that over and over again. It takes experts to go in and do everything, and Villa has the experts." —Taj J., Berkeley
"I always felt comfortable, because every time there was something that needed a decision or us all to put our heads together, it happened. And it happened frequently." —Andrew N., Santa Rosa
"The people have been amazing—and fun. We all have friendships now. It feels like we've known each other a long time." —Flannery N., Santa Rosa
"I'm very happy with the whole structure—the interior design, the finishes, the strength, and the flow of the house. It's architecturally very well designed." —Rama S., Oakland
Ready to take the first step?
Find out if one of our ADUs is right for your property by clicking below for a free, no-commitment property assessment.