Price your project in minutes
Get a detailed breakdown of estimated costs for your ADU project, from start to finish. 
No cutting corners. No surprises.
Our preferred partnerships
with top prefab manufacturers
get you the highest quality,
at the best price.
With hundreds of ADU projects
under our belt, we know how to minimize costs (especially the unexpected ones) throughout the process. 
No DIY stress here.
We manage the entire process to keep the project on time and on budget.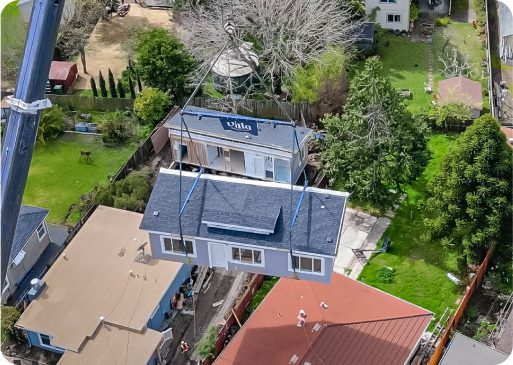 Installation and finishing
We keep you informed and in full control from the beginning to the end.
It starts with an initial project estimate based on your project details and our experience building hundreds of homes. We ballpark an all-in cost that includes assumptions on necessary site work.

Get your instant quote
Next is our Feasibility Study, which includes a detailed review of your site's specific requirements. It's a commitment-free step that gives you all the information you need to move forward with your project—confidently!



Request a Feasibility Study for $500
Project Services Agreement (PSA)
Getting close to go-time! This agreement includes your itemized all-in budget and chosen upgrades. Once you've signed, we get started on permits and sub-contractor bids.
Project Services Agreement (PSA)
Authorization to Build (ATB)
This is the last step in locking your project costs. This final price will include additional information uncovered during the permitting and sub-contracting process. In this contract, you'll approve a budget fixed with a not-to-exceed price.
Authorization to Build (ATB)
Your dedicated project manager will keep you well informed of the payment milestones for the duration of your project. We've even created a customer portal so you can see project updates and upcoming payments anytime!
What could make my price go up?
In your Feasibility Study, your project manager will uncover any additional costs that could arise based on your unique lot and preferences.  
Site grading (5-20% slope and/or loose soil)
Bedrock or soil
with clay content
Electrical panel upgrades
Trenching through anything but dirt
See what's possible on your lot.